CHRISTINE'S RAINBOW FOR GIRLS PAGE
FIRST INSTALLATION IN 1996
This Page Visited
Times
---
These are pictures from my installation as Worthy Advisor of Norman Rainbow Assembly for Girls, Assembly #18. I was very fortunate in having most of the installing officers be Oklahoma Grand Officers. My Installing Grand Chaplain was the Grand Chaplain from Texas. The summer after my first term as worthy advisor I was the Grand Representative to Texas.
---
Below is me giving a speech to the 1996 Texas Grand Assembly.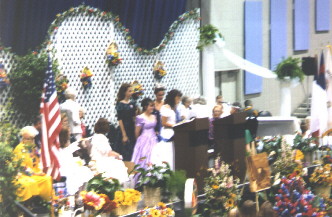 ---
Girls have more clean fun in Rainbows for Girls. I flew to the Supreme Assembly in Seattle in July 1996 and rode the bus to the Supreme Assembly in St. Louis in 1998.
I was Worthy Advisor again in January 1998 as well as the Honor Queen of Job's Daughters in June 1998.
---
The cover of my 1996 installation program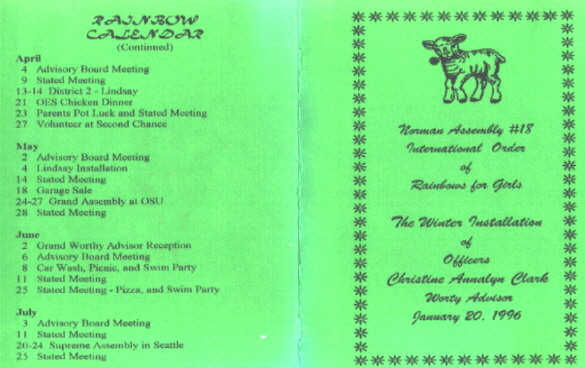 ---
One inside page showing the installing officers (no names)
---
Jump to My Oklahoma Rainbow Page
My Oklahoma Job's Daughters Page
This Page Visited
Times
This page maintained by Christine Clark Talk to my Dad