(click to hear MUSIC after the page loads if your browser isn't automatic)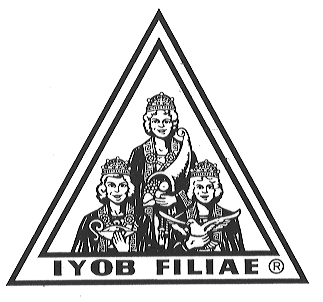 JOB'S DAUGHTERS

This page has been visited

times today.

---
by Christine Annalyn Clark
Have you ever wished you could be treated as a young lady and not just another teenager?

I found an organization of young girls 11-20 that is made up of very nice girls that I am proud to associate myself with, Job's. The name Job's Daughters comes from the Bible. Just look up Job to find some of our primary teachings. This group elects their own leadership. Each group is called a Bethel. Each Bethel elects an Honored Queen and the Officers to lead them for a six month term. The Queen and Officers help to run the group and take care of business such as keeping track of finances, planning events like fund raising, social and fun activities, all with the guidance of adult volunteers. Job's Daughters learn how to work together to achieve their goals, how to raise money and spend it wisely, how to speak to an audience, the fundamentals of parliamentary procedure and how important community service is to everyone. This is very different from scouting where God is only a vague reference. This is for girls only and definitely not coed. In scouts, the leaders tell us what to do. Yes, I am also a Senior Scout.
Education is very important in Job's Daughters. None of our activities should interfere with schoolwork or home responsibilities. Each year the organization awards scholarships at the international and regional level to help deserving girls achieve their educational goals.
Most importantly, Job's Daughters teaches members about friendship and respect for other people and cultures. Job's Daughters has over 20,000 members in Canada, Australia, the Philippines, Brazil and the United States. As a member, you have the opportunity to travel and meet girls from other Bethels and other lands.
When we have those dances mentioned above we usually combine the Rainbows, Job's, and DeMolay boys all in one dance. These dances are very well chaparoned and safe. This makes it a lot more fun when you don't have to worry about something bad happening when you go out. Your parents can rest assured that you are safe. This is not just once a year, but more like monthly. We also attend some of the DeMolay functions with the boys.
What is the difference between the International Order of Rainbow for Girls? Job's requires that you not just know someone in the organization, you must be the relative of someone already in the Masonic Lodge. While Rainbows has prayers and acknowledges the Bible, Job's is more religious in nature. While Rainbows wears dresses to meetings, we wear a white robe. Yes, I have been and will be again the Rainbow Worthy Advisor in January 1998. I will be Job's Honored Queen in summer 1998. Both have their points and I enjoy being involved in both.
Sign My Guestbook View My Guestbook
HOMEPAGE (Updated at least Weekly)